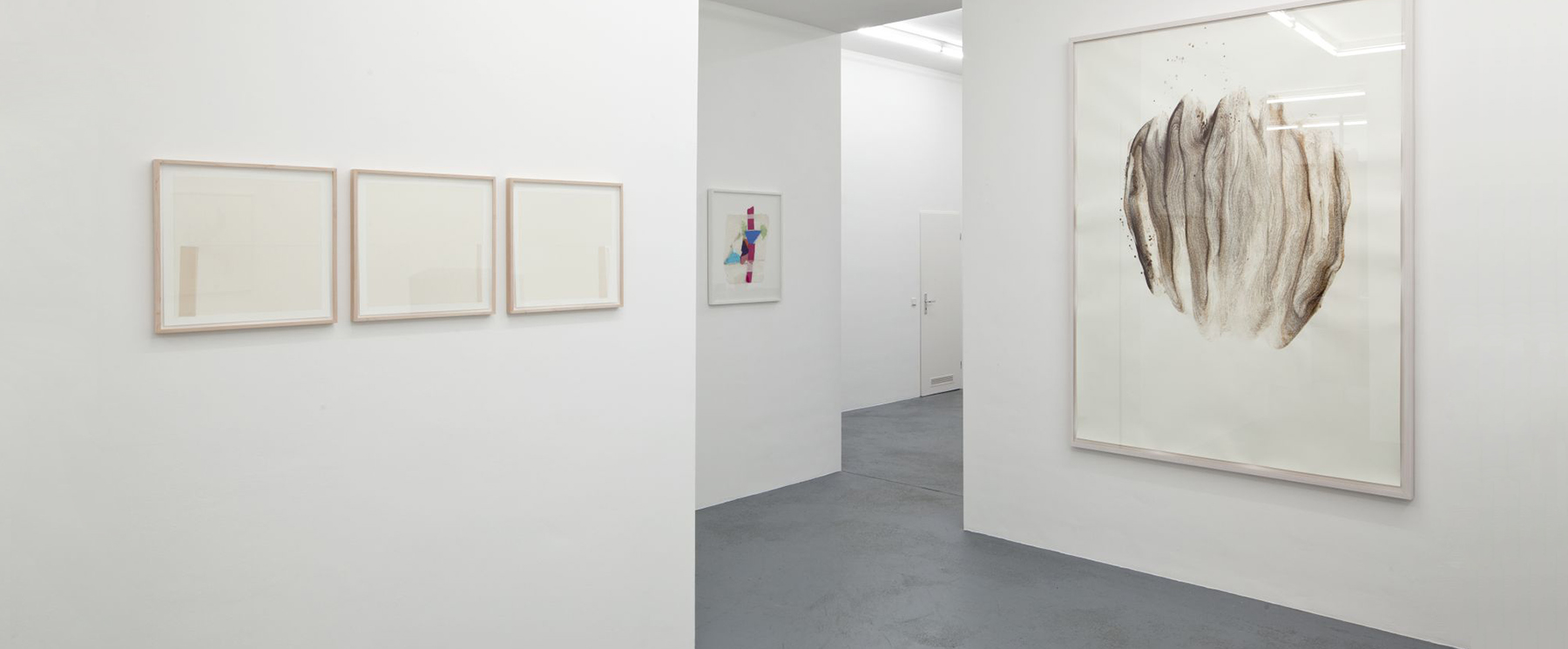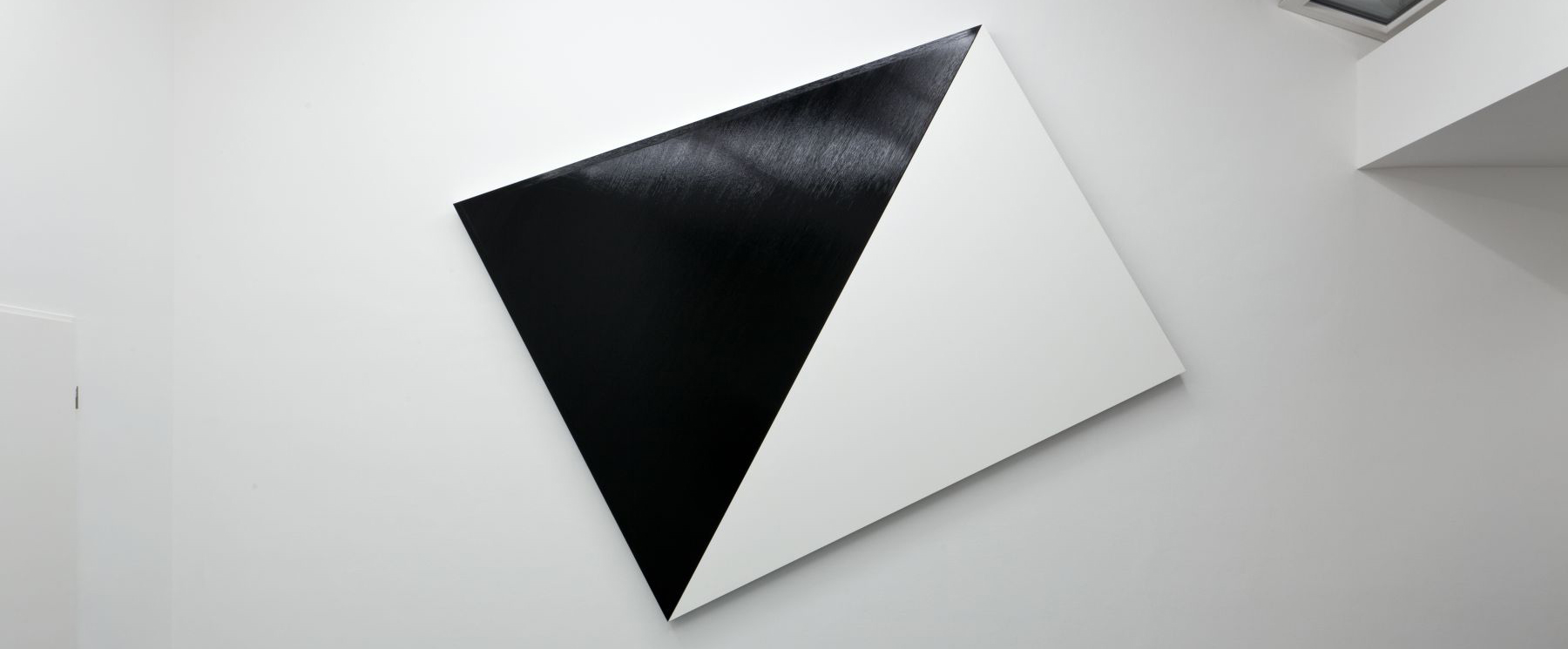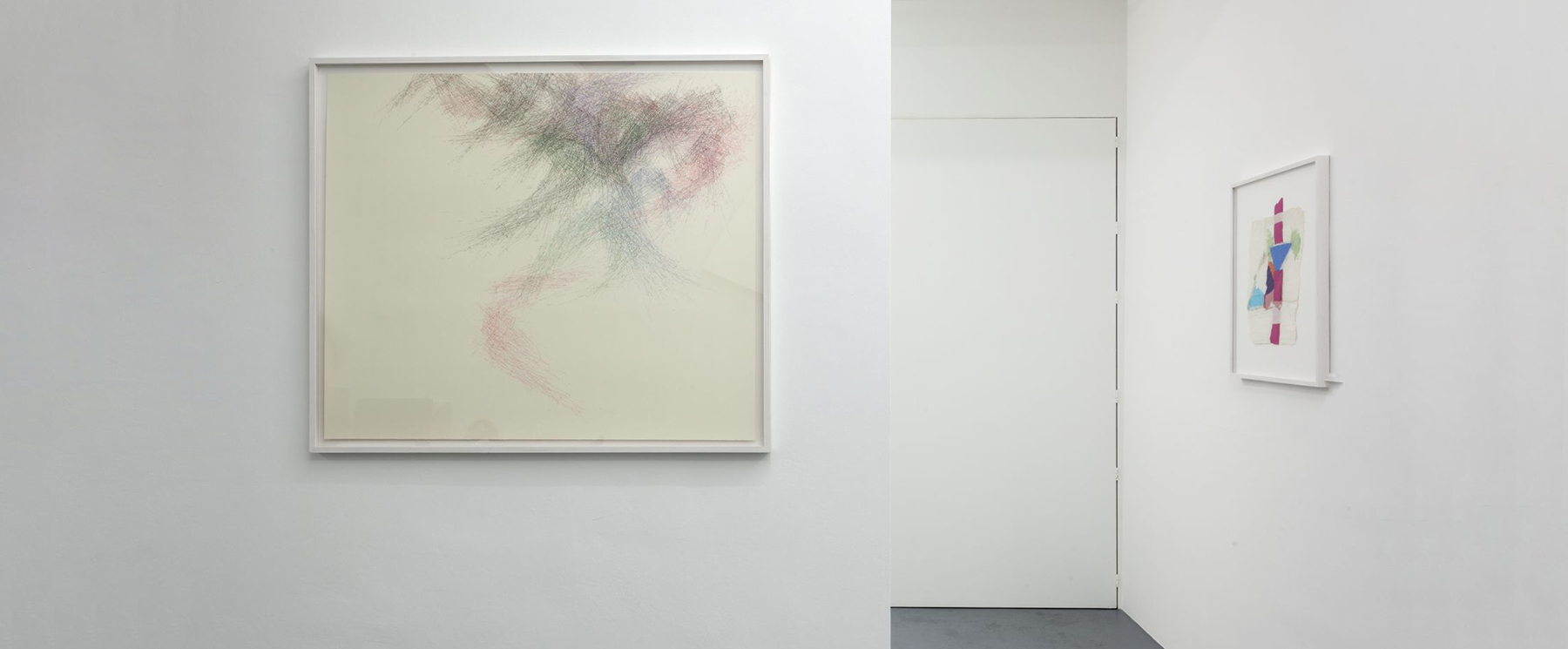 GROUPSHOW
27.01.2012 - 17.03.2012
We are pleased to announce our sixth group show including works by all artists of the gallery taking place during the Cologne Contemporaries weekend. For the first time in the gallery we present works by New York based artist Joe Fyfe (*1952) and London based artist Rana Begum (*1977). Both will open their first solo exhibitions in the gallery later this year.
In the entrance Düsseldorf based artist Kai Richter (*1969) clamps his installation »m« of yellow DOKA timbers between the gallery's ceiling and floor. The usually horizontally used building material in this work is used in a vertically, site-specific way.
On the right-hand side of the first room we present a three-part photo work by German artist Katharina Sieverding (*1944) of the series »Sonne, die Erde imprägnierend« (»Sun impregnating the earth)«, which deals with the idea of men being bound into cosmic and energetic coherences. The mysterious light within the photograph arises from a solar eclipse – a covered light that erupts at the edges. The artist's face seems to lift up to unfold new energy. The self-portrait is overlaid by a grid of circles that evokes a serial order of suns, Sieverding also works on in her latest body of work in collaboration with the NASA.
Inspired by the everyday clutter of barely ordered chaos surrounding her in London, Rana Begum (*1977) seeks out instances that seem to accidentally make sense. Much of her work sits between wall based, and three-dimensional forms the viewer has to interact with and walk around to find his or her individual perfect position and notice anew the odd and often uncharacteristic glimpses of beauty that living in a city can provide. The work takes cues from built and urban environments, looking at color, line, form, and how they collide in the city. Representative for her aluminum works we present »No. 269«.
Max Sudhues' (*1977) photo collages »Trigger Copy« result from an intensive research process with copy machines and scanners. The light – Sudhues' preferred medium – is still present but not as an illuminant but in the shape of two-dimensional collages in which the palpating light extends the sculptural possibilities. Photographic motifs of the artist's collection of found images were copied and over-copied with oranges and nets. Every disturbance in the images, like scratches etc, originates in technical coincidences. Landscapes and architecture are combined with the orbs-like almost threatening oranges.
Jill Baroff's (*1954) drawings »Conforming pairs« are part of a body of work that she thinks of as ›constructed‹ drawings. They all, in various ways, explore the physical properties and graphic possibilities of using a sheet of paper to draw itself. In conforming pairs, the larger of two sheets of Japanese Gampi paper must be folded to ›conform‹ to the sheet of paper that it is paired with. It is the act of conforming that determines the image.
Berlin based artist Jorinde Voigt (* 1977) has been developing conceptual drawings on paper since 2002, referring to them as notations and scores. Voigt constructs an ordering system, as complex as it is individual, in order to survey invisible processes in our present day with a system of drawing-like codes. In the latest »Horizon« drawings the elementary horizon lines are drawn in possible horizon colors. The side-by-side of the possible lines results in an idiosyncratic complex of colors, which defines the possible scope of colors. This element bands together with themes of: melody, rotation, territory, continental border, center and direction.
In the last years we have shown two solo exhibitions with Berlin based Irish painter Fergus Feehily (*1968). In the group show we present one of his small-sized and delicate paintings: »The Weight«. The title stands contrary to the small and light pencil drawing in a found and repainted frame. Last year Fergus Feehily's works have also been exhibited in a solo show at the Dallas Museum of Art.
In the centre of the second gallery room stands Gereon Krebber's (*1973) new sculpture »Overhead« of polyurethane and spray paint. The cube seems to deform down into a worm-like bulk. With his mostly humorous form findings the Cologne based sculptor researches and makes use of uncommon materials such as gelatin, spray foam or plastic wrap.
Last autumn we have exhibited Daniel Lergon's (*1978) latest »ANTUMBRA« series of black paintings. For this year's group show we present a large-size metal pigment drawing by the Berlin based abstract painter. For these drawings, Lergon makes use of water diluted metal pigments he applies on the paper with large brushes. Contrary to his light reflecting paintings on retro reflexive material this body of metal pigment drawings seems to absorb the light completely.
New York based artist and art-critic Joe Fyfe (*1952) concerns himself with the principles of contemporary Vietnamese art which he constantly researches and absorbs in South-East-Asia. For years he has been exhibiting his work in Vietnam and has been collaborating with Vietnamese artists. His subtle collages, like Mixed Materials, are mostly made of rice paper, found cloth, wood, felt and wood.
On the front wall of the last room we present »Weiss Schwarz« by Düsseldorf based artist Imi Knoebel (*1940). Contrary to his usually colorful acrylic works on aluminum, Knoebel here puts next to each other one white and one black triangle that together build a minimalist trapezium.
During the last years Dutch artist Nelleke Beltjens (*1974) has been developing her unique concept of drawing. Among the basic principles of her work is the fragmentation of the line, which is questioned as a fundamental drawing element, breaking it up into numerous short marks that stand perpendicular to the extension of the line. Countless superimposed colorful ›lines‹ running parallel and crosswise transform her drawings into a rhythmic cluster structure that is difficult to define. »Turmoil #2« is full of movement, characterized by abrupt changes in direction and different degrees of intensity. Last autumn Nelleke Beltjens' work was shown in an exhibition together with drawings by Jorinde Voigt at the Belgium museum Dhondt-Dhaenens in Deurle. This show will move to the Villa Zanders in Bergisch-Gladbach this summer.
In his water colors from the series »Tiefe See« (»Deep Sea«) Cologne based artist Lutz Fritsch (*1955) juxtaposes deep blue amorphous areas in opposition to red, straight sticks. These works were inspired by the artist's ongoing fascination of his travels to the Arctic/Antarctic. The indefinable forms of the surface of the deep blue sea are without any reference to known shapes. The red sticks function as a kind of reference point to these blue amorphous areas and try to control them.