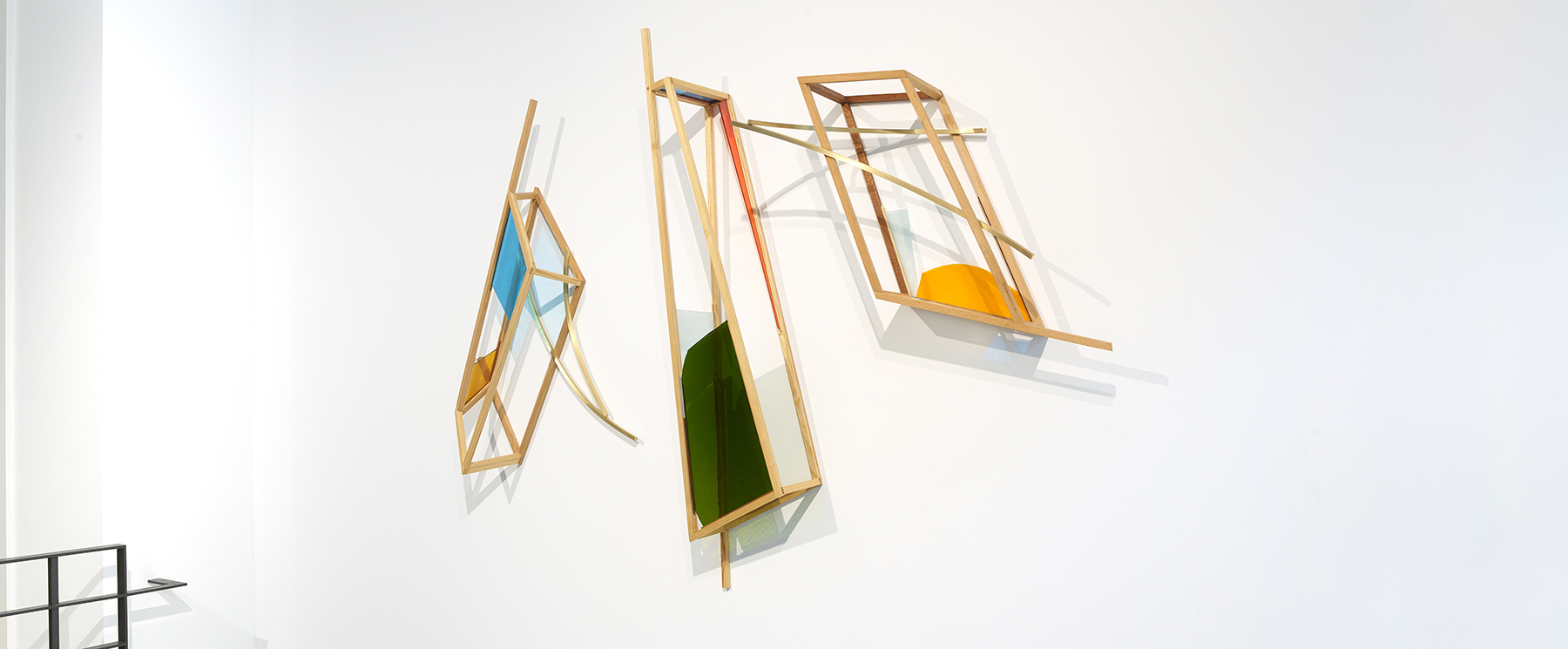 In his second solo exhibition Boo'd up at Galerie Christian Lethert, Henrik Eiben presents new drawings and sculptural wall works on two floors. The Hamburg based artist combines a wide variety of materials such as wood, metal, fabrics, glass and turns them into both minimalist and lively, moving compositions on paper, on the wall, and in the three-dimensional pictorial space.
The reduced drawings by Henrik Eiben are characterized by lightness and the joyful use of color. This can also be found in the small-format wall drawings called »Foundation Talk« presented here for the first time. Partly mounted directly on the wall and combined with applications of wood, leather and copper the result is temporary, fragile works that slowly grope their way away from the wall and into the room. The basement, transformed into a small drawing cabinet, forms the starting point for approaching the concentrated formal vocabulary and artistic principles of the artist.
Stepping up the stairs to the ground floor, into the next dimension of Henrik Eiben's artistic oeuvre, it seems as if the lines and colors of the drawings had set themselves in motion, transforming into sculptural wall objects.
The three-dimensional wall works playfully liberate themselves from the construction of the wooden frame. While in the four-part work »Arabesque Hop« additional frames seem to step out of the picture plane, the works »Bone Shaker« and »Light Breaker« have an even more sculptural character. What they have in common, however, is the exploitation and expansion of the medium of painting. Instead of applying paint directly, Henrik Eiben uses fabrics and mouth-blown glass for his precise color settings.
When the wall becomes an integral part of the new »Foundation Talk« drawings, the open forms of the sculptural works offer a wide variety of perspectives. Depending on the incidence of light, exciting plays of colour and shadow appear on the wall, which constantly change with the viewer's gaze. Henrik Eiben thus not only sets lines and colors in motion, but also our viewing habits: »Biddy-da-dum, boo'd up« (Ella Mai).