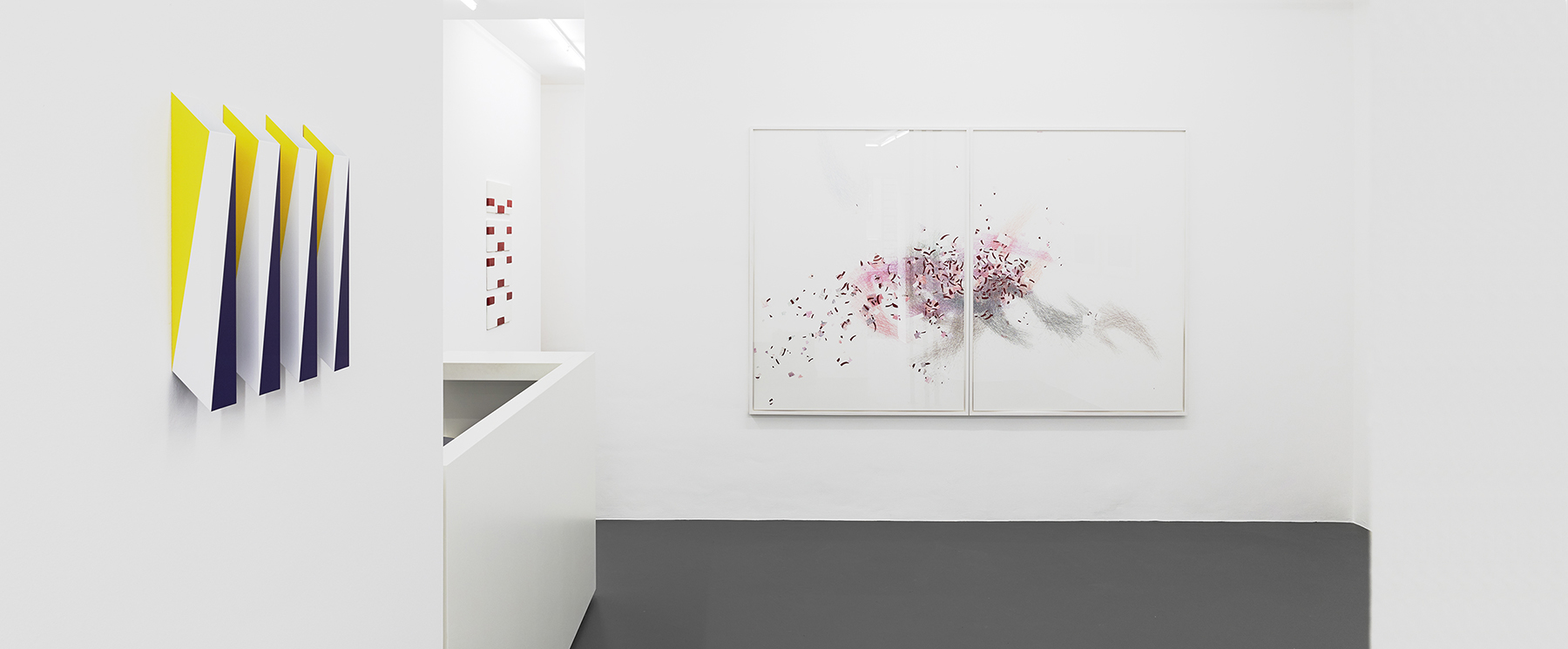 GROUPSHOW
17.01.2014 - 22.03.2014
We are pleased to announce our annual GROUPSHOW including works by all 13 artists of the gallery. This time we are happy to introduce US American artist Sadie Benning. This gives you a preview on our joint COLLABORATIONS booth, together with New York based gallery Callicoon Fine Arts at the upcoming Art Cologne in April.
In the entrance of the gallery Gereon Krebber (*1973) shows his new aluminum sculpture »Chunkie«. Large ivories seem to have bitten a big chunk out of stacked aluminum blocks.
Katharina Sieverding's large photo work »Kontinentalkern IX« (1987) shows an image of a scene in Hiroshima overlaid by a uranium radiation. This body of work by the Düsseldorf based artist critically discusses nuclear phenomena. Last year the Museum Schloß Moyland showed an extensive soloexhibition on Katharina Sieverding's work with the title Weltlinie 1969-2013.
Jill Baroff's 5part drawing »Translations« was made in 2000 and is drawn with graphite on Japanese gampi paper. They are short, visual poems, whose meaning is derived from breaking apart the character structures of Japanese Kanji. For instance, the Japanese character for ›infatuation‹ is made up of the three images (or compound ideograms) water/weak/love: »It suggested the image of drowning to me and so the words float down through a divided atmosphere of stacked gampi.« (Jill Baroff)
Past September we have shown Daniel Lergon's (*1978) solo-exhibition POTENTIAL EISEN in the gallery. His latest painting on copper is part of his body of work using powdered metal. The Berlin based artist grounds the canvas with metal and then paints with acidified water instead of pigments.
The potential of the painting's surface is chemically aroused. With »The Meadow« Irish painter Fergus Feehily (*1968) once again demonstrates his inexhaustible
sensitivity for painting, material and theory. A green net of rhombus patterns on a light-rose wooden panel is covered with a touch of white paint which turns the color into subtle shades of green. In 2013 Feehily's sophisticated compositions were again part of important painting exhibitions such as in the Walker Art Center Minneapolis and the Arthur Boskamp Stiftung in Hohenlockstedt.
In the second gallery room Kai Richter's black and orange steel trestles »INFRA« brace the space from floor to ceiling. The works by the Düsseldorf based artist (*1969) will be part of the exhibition Raw Materials – Vom Baumarkt ins Museum at the Städtische Galerie Bietigheim-Bissingen, opening on January 17th, 2014.
Rana Begum's (*1977) post-minimal form vocabulary is not only influenced by Donald Judd and minimalist art in general but also by modern architecture and urban structures. The threedimensionality is an important aspect to Begum's works that are mostly multi-perspective and offer a vast number of possible angles from which the viewer can choose his or her perfect position to look at it. In our GROUPSHOW we present the new 4part aluminum piece »No. 486«. At the upcoming Art Brussels next April we will show a solo presentation with the London based artist.
The large diptych »irresistible non-solution #15« by Dutch artist Nelleke Beltjens (*1974) was made during a residency in Berlin over the last summer: »Contemporary life is characterized by uncertainty and complexity. The persistent feeling that we are living in an in-between stage is becoming more and more apparent; change is not only an idea, but rather felt on many levels. Nothing is solid, all is fragmented and in movement. I use the medium of drawing to create highly intricate structures alluding
to the over-complexity of our reality«. (Nelleke Beltjens)
Berlin based artist Max Sudhues (*1977) shows two photo works of his latest series »Damrosch« that refers to an installation project which Sudhues carried out in Lüdenscheid last fall. In the context of Lichtrouten he reinvigorated a forgotten and abandoned corporate area artistically. Found objects are insulated from their original context and surrounding to be verified of their formal beauty and poetic quality.
The work »Turbulences« by Cologne based artist Lutz Fritsch (*1955) is part of a new body of work. In his series of sculptural drawings two color fields take up position and are surrounded and captured by circling forms. A powerful area of tensions evolves in the dynamic between the rotation of the line and the static color fields.
Last fall we have launched our first publication on Joe Fyfe's work, including an extensive selection of works and an interview in the back. We are happy to present a hanging wall sculpture of wood and plaster by the New York based artist and critic (*1952), which can be seen on the catalogue's cover page.
From the beginning of his artistic career Düsseldorf based Imi Knoebel (*1940) has been committed to strictly non-representational art. The painting »Sandwich« from 1993 consists of three plywood panels that are only painted with red, blue and yellow from the inside. The actual painting only reveals at the edges of the minimalistic painting, whose material refers to early works on plywood such as the famous »Raum 19« which Knoebel built during his studies at the Kunstakademie Düsseldorf in the late
1960s.
Berlin based artist Jorinde Voigt (* 1977) has been developing conceptual drawings on paper since 2002, referring to them as notations and scores. Voigt constructs an ordering system, as complex as it is individual, in order to survey invisible processes in our present day with a system of drawing-like codes. We are showing two lithographs from the series »Symphonic Parts«.