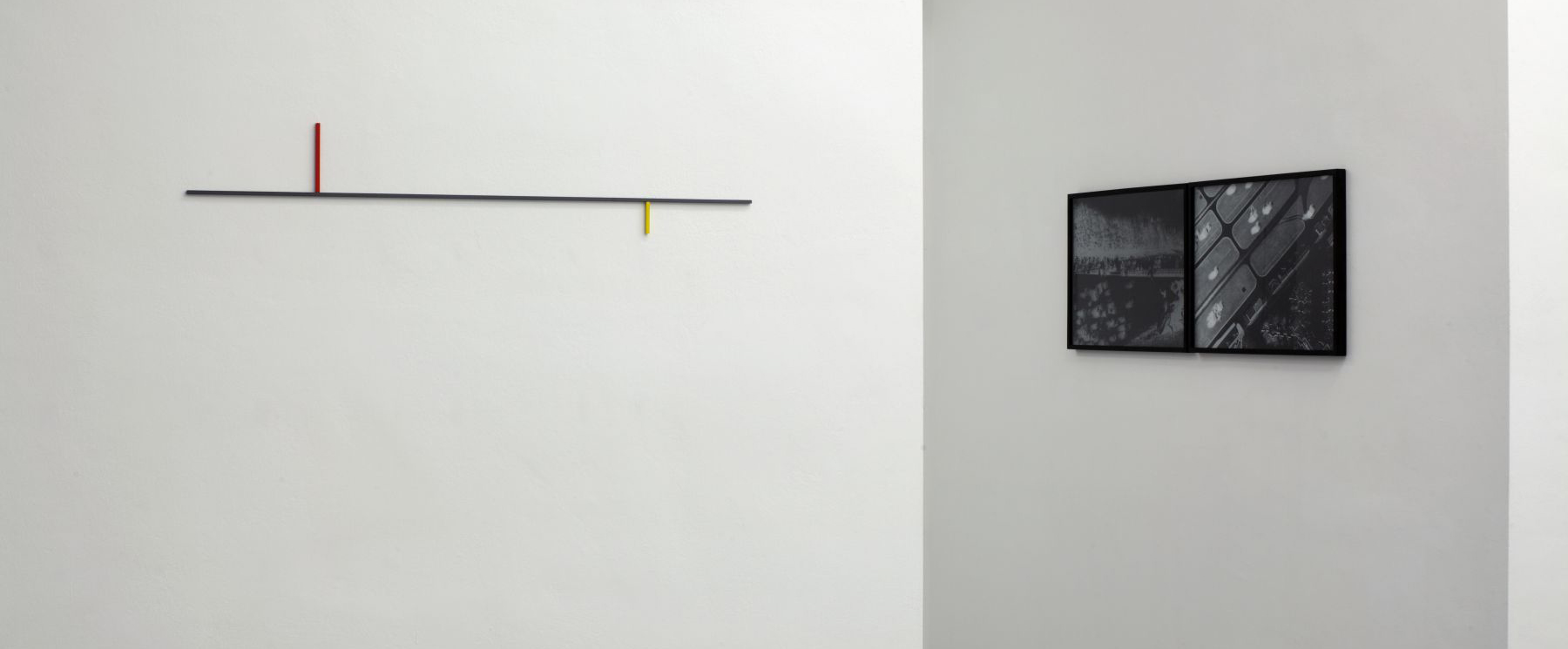 GROUPSHOW
05.02.2011 - 02.04.2011
We are pleased to announce our yearly GROUPSHOW which again provides an overview of our current program:
In the first gallery room Katharina Sieverding shows her large-scale triptych »MATON«. Gereon Krebber, who currently shows his installation »Azur Komplex« at the Wilhelm Lehmbruck Museum in Duisburg, presents a new orange sculpture that reminds of a large scaled hockey stick leaning against the gallery's wall.
Furthermore we are pleased to present a new painting by Daniel Lergon. The clear lacquer on the retro-reflexive material changes so fantastically under different incidences of light that it seems to glow itself.
Already last autumn we have shown Fergus Feehily's small and sensitive paintings in his solo show Recent Work. In the GROUPSHOW we present the two new works »Outside« and »Garden« by the Irish painter.
In the second gallery room Kai Richter fascinates with his long and elegant concrete sculptures, whose surfaces change between rough and smooth. The artist's sensitive handling with this construction material is more than convincing.
The complex 8-part drawing »Cluster series«, by Dutch and Montana, USA based artist Nelleke Beltjens is a result of thousands of little ink strokes. This complex and detailed technique gives birth to beautiful and fragile clouds that seem to float on the paper.
With Jill Baroff we are happy to present another drawing position from our program. Her 5-parts drawing is part of her recent »Floating Line Drawing Drawings« on thin Gampipaper.
For his 4-part photography series »Inverted Invasion« Max Sudhues took photos of peppercorns lying on pictures of everyday life situations, such as swimming pools, and then inverted the colors. With this technique the simple corns seem to turn into threatening little beings.
Accompanied by Jorinde Voigt's »Symphonie Var. IV/5« from 2009 we are pleased to present Imi Knoebel's large-sized, 2-part installation »Bergblau« (1998).
On the opposite wall you can see the new work »on the way« by Lutz Fritsch. on the way is part of the new »construction« group of aluminum works which we will be showing in the artist's upcoming solo show in April 2011.